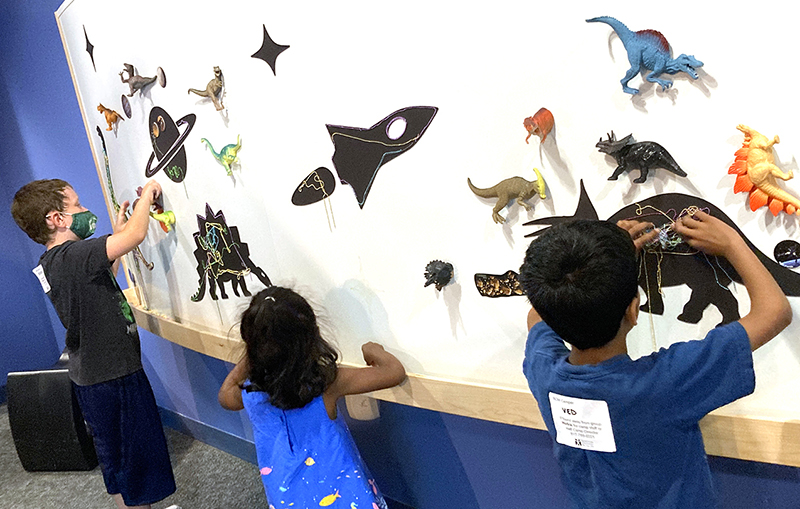 During the year the Museum opened the new exhibits Dinos in Space and the Fenway Farms Rooftop Garden as well as completed important restoration work to the Museum's Japanese House exhibit.
Dinos In Space!
The Museum opened a new Dinos in Space exhibit that conjures an imaginary universe bringing together our fascination with dinosaurs and the wonder of outer space. Dinos in Space invites children and adults to explore an imaginary universe that comes to life through fantastic and playful installations, murals, and displays.
Kids can use their imaginations and creativity to dress up a dinosaur and wonder what types of outfits dinosaurs would wear. Create a constellation by identifying different shapes made by the stars. Send spaceships and dinos on intergalactic journeys using a pneumatic tube system, and create dinos in space-inspired music, drawings, or poetry.
Fenway Farms
In 2022, the new Fenway Farms Rooftop Garden, a replica of the rooftop garden at Fenway Park, opened at the Museum. An 1,100-square-foot space on the Museum's second level overlooking the plaza, the Garden was created with the support of The John W. Henry Family Foundation, The Werner Family Foundation, and the Red Sox Foundation.
The Garden, led by knowledgeable farmer educators, offers the opportunity for children and families to interact with living organisms. The space encourages open exploration and the use of imagination in thinking about the plants and animals that live in it and in other natural spaces. Green City Growers maintained the Garden during the growing season, planting and harvesting the produce and herbs.
With the support of farmer educators, children and families can explore local plants and discover how they change during and throughout the seasons. The goal is to encourage curiosity and empathy towards plants and animals and feel a capacity to care for them while developing an understanding of the lives of the flora and fauna and the people who care for them. Visiting families can explore and consider the biodiversity even within a small garden and the area around the Museum.
Also during the year the Museum's historic Japanese House, a gift from the city of Kyoto to the city of Boston in 1979, and originally constructed in the late 1800s, underwent repair to ensure its safety and long term structural integrity. Experts in the craft of timber framing were hired to complete the repair conforming with the original timber design. This special and unique Museum exhibit continues to be a one-of-a-kind cultural resource for Boston where families and students can explore every corner of the fully equipped home.